TRANSFORM YOUR GOLF GAME
When you want practice your short game any time, indoor putting greens are your answer. Completely personalized to fit your space, our designs feature a precision-crafted base for realistic play. Discover the world of indoor putting greens and unlock the many benefits that will boost your performance and raise to bar on your lifestyle.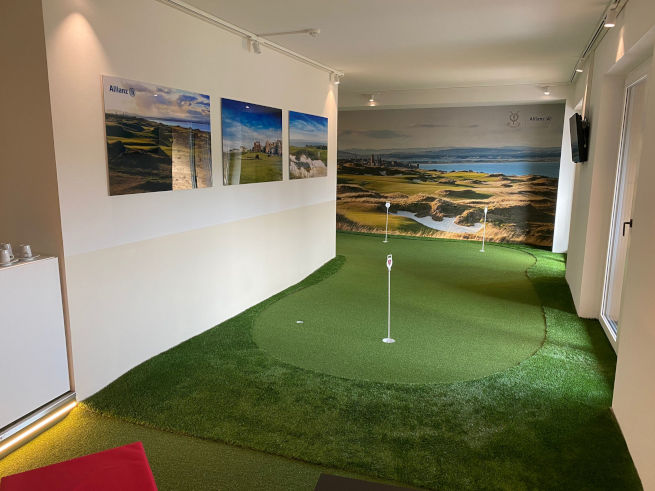 PUTTING MATTERS
Putting is never just another aspect of golf; it's vital for success. Did you know that almost half of your shots are on the putting green? Despite this, many golfers skip putting practice in favor of practicing drives at the range. While driving ranges are fun, they cannot refine your short game like practicing on an indoor putting green can. Our industry-leading putting green turf, made from short-pile artificial grass, ensures your ball rolls true every time.
WHY CHOOSE INDOOR PUTTING GREENS?
An indoor putting green will not only transform the look and feel of your house or workspace but will, more importantly, let you practice your golf game whatever the season or weather, and the benefits of owning an indoor putting green surpasses the expense by far.
YEAR-ROUND PRACTICE
Stop letting the weather dictate your practice schedule. With an indoor putting green, you can hone your putt regardless of the time of year.
HIGHLY CUSTOMIZABLE
Personalize your green to align with your preferences. Choose a layout, contours, hole layout, add-ons, and colors that fit your style.
COST-EFFECTIVE
Spend less on travel, club memberships, and caddy fees. An indoor putting green is a smart investment that pays off in the long run.
EASY MAINTENANCE
Enjoy the perks of nearly maintenance-free synthetic turf. Keeping your indoor putting green neat and well-maintained is simple.
PRACTICE ANYTIME
Whether you're just starting out with putting or a experienced golfer, an indoor putting green is your path to improving your short game at your own pace.
ENHANCE YOUR HOME
Upgrade your home's appearance with an indoor putting green that showcases your unique flair and passion for golf.
ENTERTAIN FRIENDS AND FAMILY
Host exciting gatherings with dinner and golf. Even younger guests can join in the golfing fun.
AUTHENTIC PLAYABILITY
Our synthetic turf mimics natural grass, delivering a playing experience that equals or goes beyond your favorite Los Angeles and Southern California golf course.
CHOOSING THE PERFECT SIZE
A big advantage of indoor putting greens is their range of sizes. Whether it's a compact corner or a large open room, we can personalize your green to integrate seamlessly. Plus, our base underlayment adds undulations and realistic slopes for an authentic golf course feel.
Some typical indoor putting green sizes are:
7.5' x 15'
15' x 15'
25' x 15'
Unsure the size that suits your space? Let Southwest Greens find the perfect fit.
PRICING YOUR DREAM INDOOR PUTTING GREEN
Wondering about the price? While it's impossible to provide an exact amount here, we are happy to shed light on the factors affecting the cost for you. Typically, Los Angeles and Southern California indoor putting greens range from $15 to $30 per sq. ft.. Factors to think about include the size of the green, the materials used, and how it's installed:
Base materials
Green dimensions
Design complexity
Number of cuts
Site access and prep
Additional features
Installation
For a precise quote and a thorough breakdown of your indoor putting green investment, reach out to us today. Let us turn your golf dreams into reality!